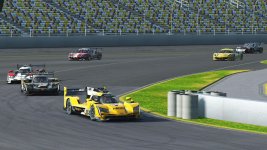 After a season off, the Xplore Sports Car Championship is set to return for a second season. Previously hosting two classes of competition between the Cadillac DPi.VR and the GTE cars, this time the series organizers have added the new Porsche 992 GT3 Cup to the mix along with the Acura ARX-05 DPi found in the Rfactor2 workshop.
When asked why now for the second season and about the addition of the Acura and Porsche Cup car, they had this to say:
"Last season all members of our administration had a lot of life changes, leaving us little room for series so we had to pick and choose. This year things have note only settled down for all us, but we added a new member and are still searching for another member or two to join our league coordinator group. As for the cars, the Acura is a natural fit as it is a DPi and has been recently updated and balanced to match the Cadillac.
"The Porsche was a case of wanting to run a Porsche Cup series but not having room on the schedule for the administrators that wanted to drive it. It is quick in its own right and it so far fits the space of say the GTD class without being so slow that it would be unsafe and without any of the BoP issues that RFactor2's GT3 class has a well known history of having. And let's not forget to mention it is a very easy car to drive compared to it's predecessor, the 991 GT3 Cup. That's what gave us the idea to run the GTC class."
As a part of Xplore Sim Racing's reset this season, they've put the XSCC series into the spot previously held by their World Challenge series, an open GT series using all classes and DLC in Assetto Corsa Competizione. This puts the XSCC running every other Saturday night and moves the WC series to the afternoon slot, more on that later. This move means that several XSR regulars have returned already, with rumors more are joining the series as well.
At least 10 entries spread across all 3 classes have already been posted in just a few days of open sign ups which paints a positive picture for the return on the series. Race Control has said it will likely not add any other classes this season but with a successful season we could see the addition of LMP2 or GTD and with the possibility of future LMDh/LMH class cars being added to the Vanwall LMH already in the sim, DPi could be replaced with GTP as early as next season.