Race Control
Race Control
League Coordinator
Driver
Grand Champion 2017
Grand Champion 2020
Grand Champion 2022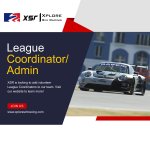 Xplore Sim Racing is looking for those wanting and willing to host leagues, special events, and fun races with us. In recent years, our administrators have not had the ability to output the number of series we would like to see due to life and we want to rectify that. We would prefer members in the US, Canada, Australia, and New Zealand for time zone purposes. You would be working closely with myself and our other staff to build up XSR's racing. Experience hosting racing is a major plus but not a deal breaker if you don't have it, we can guide you. We are open to all the major titles and with the right combination I am confident we can get things going. All days and time slots, with a few caveats.
Assetto Corsa, Assetto Corsa Competizione, Automobilista, Automobilista 2, Rfactor 2, iRacing, even GTR2. We even have members interested in American/Euro Truck Simulator and flight combat sims like DCS.
Responsibilities:
-Work with members of Race Control to develop new leagues.
-Provide any advertising material for the league
-Prepare a rule book of some sort, be it a list or formal formatted rules package. Simple is ok, and often best.
-Test mods/tracks for unforeseen issues prior to any official sessions take place.
-Provide mods or mod links for material that is not DLC.
-Keep track of points and submit final standings to Race Control
-Moderate a forum for your league(s)
-Chosen Candidates may be have to provide game server, further discussion with our admin team will determine this.
-Other tasks not listed here, because if I'm completely honest its early in the morning and it didn't come to mind.
1. Leagues must not coincide with other XSR leagues without prior approval.
2. LCs must adhere to XSR site rules.
3. LCs report to Race Control on all facets of their league as need be, but will be generally left to run their series unless problems arise.
4. LCs are volunteers, as are all members of XSR Staff, including Race Control until further notice.
>>>Apply Here<<<
Last edited: